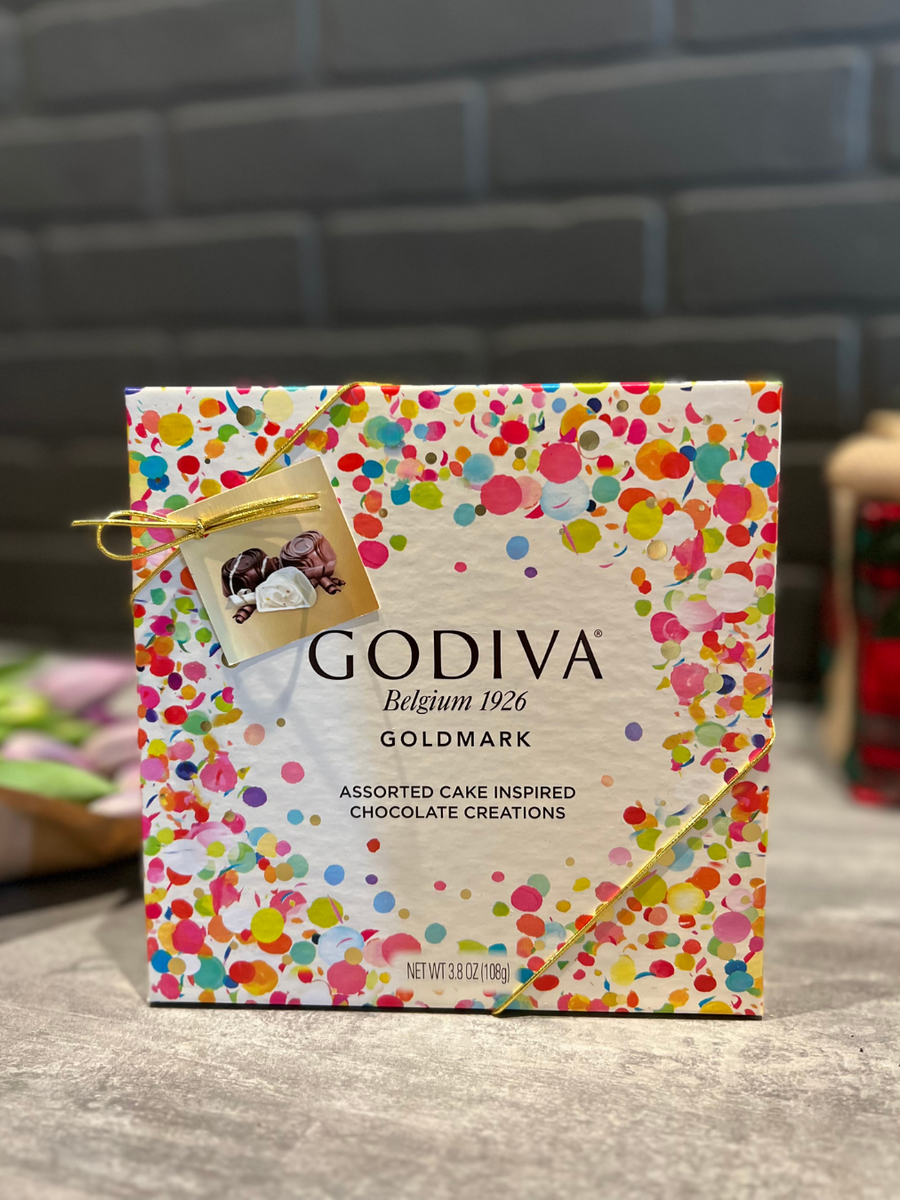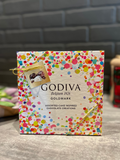 Product description:
Make chocolate lovers happy with a special happy birthday gift: the Limited Edition Cake Inspired Chocolates! Celebrate birthdays with cake—a new and improved kind of cake! This Limited Edition Assorted Cake Inspired Chocolates make for a fun and flavorful happy birthday gift. They're ready to party in three exceptional flavors, including milk chocolate, dark chocolate, and white chocolate. This delicious assortment includes 9 gourmet happy birthday chocolates:  • Three Red Velvet Cake Bliss chocolates - A rich milk chocolate red velvet cake inspired ganache in a milk chocolate shell. • Three Chocolate Lava Cake Bliss chocolates- A dual layer of molten chocolate over decadent dark chocolate ganache in a dark chocolate shell with white chocolate drizzle. • Three Birthday Cake Bliss chocolates - A creamy white chocolate and vanilla mousse in a white chocolate shell.
Disclaimer
Nota aclaratoria:
Los colores de las flores en nuestros bouquets y arreglos se trabajan a discreción de los floristas según su disponibilidad.
En French Tulip recibimos flores con una selección variada de colores semanalmente por lo cual es difícil replicar todos los productos de manera exacta. Las fotos utilizadas son para referencia del diseño y composición del producto.
Estamos en la disposición de encontrar los colores que desee. Si tiene alguna petición especial de colores, comuníquelo en el espacio para notas, ¡amamos complacer a nuestros clientes! De no tener disponible el color que solicita, nos comunicaremos con usted para encontrar nuevas alternativas. 
Delivery
Nos encanta ser parte de tu ocasión especial. Hacemos entregas en San Juan, Guaynabo, Bayamón, Cataño, Carolina, Trujillo Alto, Caguas, Gurabo, Juncos, San Lorenzo, Cayey, Cidra, Aguas Buenas, Toa Alta, Toa Baja, Dorado, Vega Alta, Vega Baja y Manatí por un costo adicional de $15.00. 
Las entregas se realizan en cualquier momento dentro del horario de 8am a 5pm. El tiempo de espera para realizar la entrega será de 15 min. En caso que el destinatario no conteste durante esos 15 minutos, el chofer continuará con la ruta. Si el destinatario contesta, pero no se encuentra en el momento de la entrega en la dirección acordada, se podrá hacer la entrega en otro punto de encuentro a no más de 5 minutos de distancia de la localización inicialmente acordada. De no lograrse comunicación entre el chofer y el destinatario al culminar el tiempo de espera, el chofer debe regresar con su producto a la localidad donde se realizó su orden al terminar la ruta designada. La persona que ordena debe recoger la orden en la tienda o pagar nuevamente el "delivery fee" y acordar una nueva entrega.
El espacio para la entrega se separa una vez que hace el pago de 'delivery fee'. Tendrá 48 hrs para cancelar la entrega y se le dará un crédito en la tienda por la cantidad pagada para ser consumida al momento de recoger la orden. No se dará crédito si se cancela el mismo día en que estaba acordada la entrega.
Debido a la pandemia del COVID-19, por la salud de nuestros empleados y la suya, no hacemos entrega dentro de hospitales ni a personal ni a pacientes. El chofer llegará al área más cercana del edificio en que se encuentre el destinatario. Se le otorgarán 20 minutos de espera para que el destinatario llegue hasta el auto del chofer y se finalice la entrega. Al culminar el periodo de espera, el chofer continuará con su ruta asignada y una vez la termine, entregará su producto a la localidad en que se realizó la orden. La persona que ordena debe recoger la orden en la tienda o pagar nuevamente el "delivery fee" y acordar una nueva entrega.
Returns policy
Nuestros productos son naturales y confeccionados a mano. Es por esto que ninguno de nuestros productos se replica de forma exacta y no podemos garantizar tonalidades, colores o formas específicas en nuestros productos. Las fotos utilizadas en nuestro website se utilizan para referencia de diseño y composición de cada arreglo o 'bouquets' de flores. Nuestro equipo de floristas trabaja con pasión para cumplir con el diseño y composición del producto mostrado en las fotos. Los arreglos y 'bouquets' están sujetos a la disponibilidad de flores que tengamos en la floristería al momento de preparar su orden.
Cancelaciones
Toda compra es final. La cancelación de una orden debe realizarse dentro de las primeras 24 hrs luego de realizar el pago de la misma. Queda a discreción de French Tulip el hacer un ajuste monetario o otorgar un crédito en la localidad donde se realizó la orden. Si la cancelación pasa las 24 hrs luego de realizada y pagada la orden, no se hará devolución de dinero y se brindará un crédito en la localidad donde se realizó el pago equivalente al total de la orden. El crédito debe ser reclamado en 48 hrs a partir de la cancelación y tendrá 90 días de validez al ser otorgado.
Devoluciones
En French Tulip nos aseguramos de utilizar flores frescas para crear cada arreglo y 'bouquet'. No somos responsables de la durabilidad de las flores que salen de nuestra floristería. Nuestro producto es natural y delicado por lo cual puede deteriorarse con rapidez por diversos factores, tales como: la temperatura del ambiente, la deshidratación y la humedad del lugar donde se encuentren entre otros. De no estar satisfecho con el producto recibido, el producto debe devolverse en las próximas 12 horas en la localidad donde se compró para recibir devolución o crédito por el mismo.